We are thrilled to announce the return of our Author Book Talk in the library!
Please join us at the Markus Library for our Author Book Talk with Lee McIntyre, Ph.D. discussing the book, The Scientific Attitude.
Date: April 27th, 2023 from 3:30pm to 5:00pm
(Welcome reception with wine, coffee, and tea & snacks starts at 3:30pm, Book  talk and discussion starts at 4:00pm)
Location: Markus Library 2nd Floor Main Reading Room, 2nd Floor, Welch Hall. This is an in-person event.
No registration is required.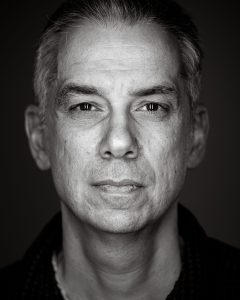 LEE McINTYRE is a Research Fellow at the Center for Philosophy and History of Science at Boston University and a recent Lecturer in Ethics at Harvard Extension School.He holds a B.A. from Wesleyan University and a Ph.D. in Philosophy from the University of Michigan.
Dr. McIntyre is the author of many books including On Disinformation (MIT Press, 2023), How to Talk to a Science Denier (MIT Press, 2021), The Art of Good and Evil (Braveship Books, 2021), Philosophy of Science (Routledge, 2019), The Sin Eater (Braveship, 2019), The Scientific Attitude (MIT Press, 2019), Post-Truth (MIT Press, 2018), Respecting Truth (Routledge, 2015), just to name a few.
He frequently contributes to New York Times, Washington Post, Boston Globe, Nature, Newsweek, Scientific American, The Chronicle of Higher Education, among many others. He has appeared on CNN International on Amanpour and Company—and several other programs on PBS, NPR and the BBC. 
Please visit Lee McIntyre's website for full information about this work.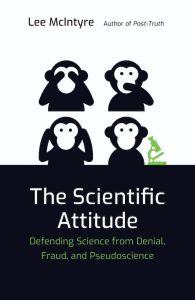 The Scientific Attitude
Defending Science from Denial, Fraud, and Pseudoscience
Attacks on science have become commonplace. Claims that climate change isn't settled science—or that evolution is "only a theory"—reflect basic misunderstanding of how science works. Yet defenders of science often point to its successes without being able to explain exactly why scientific claims are superior. In The Scientific Attitude, Lee McIntyre argues that we can best understand what is distinctive about science not by focusing on its method or achievements, but on those instances of failure to live up to one of its most basic values—"the scientific attitude"—which is caring about evidence and being willing to change our theories on the basis of evidence. The most efficient way to combat science denial, pseudoscience, and scientific fraud is to understand them as violations of a group ideal that is embraced by the community of scientific practitioners.
(Text from MIT Press; https://mitpress.mit.edu/9780262538930/)
This book is available form the Markus Library or your local public libraries, including the New York Public Library and Queens Public Library. To purchase a copy, click here for options.
Please contact the library at markuslibrary@rockefeller.edu for questions about this event.