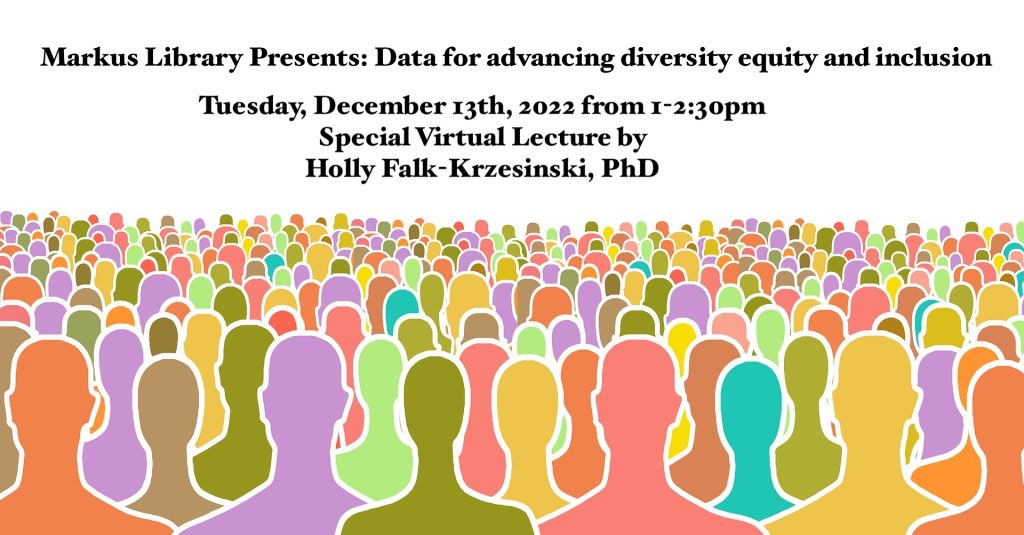 Please join us for the special lecture on Data for advancing diversity equity and inclusion!
Diversity, Equity, Inclusion, and Accessibility are all part of the DEI movement which has become important to discuss across industries and within academia.
 For this special online event, the Markus Library invites Holly Falk-Krzesinski, PhD, the Vice President, Research Intelligence with the Global Strategic Networks from Elsevier, to illustrate gender disparities in academic publishing by analyzing publication data and how Elsevier is working to address the issue and to promote diversity and inclusion within STEM publishing.
Topics and Agenda:
Why Equity in Research Matters
Gender & the Research Workforce
Sex & Gender-based Analysis in Research Studies
UN Sustainable Development Goals & Gender Research
Addressing Lack of Diversity & Bias in Journal Editorial Management Workflow
Question & Answer Session
Date: Tuesday December 13th, 2022
Time: 1 pm – 2:30 pm
Location: Zoom (Please contact markuslibrary@rockefeller.edu to register)
We invite you to join us for this session and are encouraging questions and comments during the open session after the presentation.
About the speaker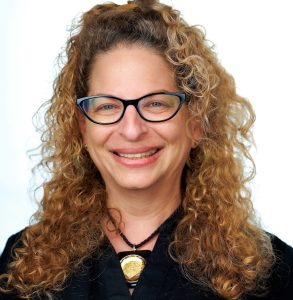 Holly J. Falk-Krzesinski, PhD
Vice President, Research Intelligence with the Global Strategic Networks team, currently on secondment with Strategy, at Elsevier.
Dr. Falk-Krzesinski's key role is giving voice to research and library leaders at universities, funders, and science policy organizations to help deliver the most impactful and inclusive research information solutions to support research globally. Dr. Falk-Krzesinski has been Co-chair of the Gender Equity Taskforce since its inception six years ago, advocating for greater diversity in the STEMM workforce, promoting sex/gender/intersectional-based analysis in scientific research and scholarly publications, advancing journal editorial board diversity, and co-authoring Elsevier's two global gender analytics reports. Dr. Falk-Krzesinski's engagement activities include building partnerships around DEI issues with a focus on intersectionality – notably Gender, Race & Ethnicity, and Age. She has been leading Elsevier's efforts, in collaboration with the 52-member, multi-publisher Joint Commitment for Action in Inclusion and Diversity in Publishing group, to develop a global framework to consistently collect Gender Identity and Race & Ethnicity data across scholarly communication and editorial workflow platforms. The intention is for this data to lead to actionable insight that advances diversity and inclusion and addresses bias, discrimination, and systematic racism in research.
Prior to joining Elsevier, Dr. Falk-Krzesinski was a faculty member and administrator at Northwestern University. She helped launch the Chicago Collaboration for Women in STEM program to address institutional underrepresentation of women in both pre-and post-tenure faculty positions across STEM disciplines at Chicago-area universities and Department of Energy National Labs.
We are looking forward to seeing you all on zoom!
Please contact markuslibrary@rockefeller.edu for questions and comments