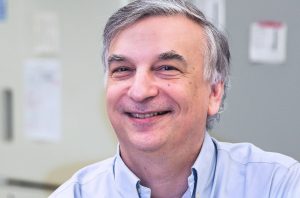 Monday Lecture Series
(open to the Rockefeller community)
Monday, December 12, 2022
Shai Shaham, Ph.D.
Richard E. Salomon Family Professor,
Head of the Laboratory of Developmental Genetics,
The Rockefeller University
Glial control of C. elegans behavior
Recommended Readings:
Empirical Articles
Rashid, A., Tevlin, M., Lu, Y., & Shaham, S. (2022). A developmental pathway for epithelial-to-motoneuron transformation in C. elegans. Cell reports, 40(13), 111414.
Toker, I. A., Lev, I., Mor, Y., Gurevich, Y., Fisher, D., Houri-Zeevi, L., Antonova, O., Doron, H., Anava, S., Gingold, H., Hadany, L., Shaham, S., & Rechavi, O. (2022). Transgenerational inheritance of sexual attractiveness via small RNAs enhances evolvability in C. elegans. Developmental cell, 57(3), 298–309.e9.
Jiang, H. S., Ghose, P., Han, H. F., Wu, Y. Z., Tsai, Y. Y., Lin, H. C., Tseng, W. C., Wu, J. C., Shaham, S., & Wu, Y. C. (2021). BLMP-1 promotes developmental cell death in C. elegans by timely repression of ced-9 transcription. Development (Cambridge, England), 148(20), dev193995.
Mizeracka, K., Rogers, J. M., Rumley, J. D., Shaham, S., Bulyk, M. L., Murray, J. I., & Heiman, M. G. (2021). Lineage-specific control of convergent differentiation by a Forkhead repressor. Development (Cambridge, England), 148(19), dev199493.
Raiders, S., Black, E. C., Bae, A., MacFarlane, S., Klein, M., Shaham, S., & Singhvi, A. (2021). Glia actively sculpt sensory neurons by controlled phagocytosis to tune animal behavior. eLife, 10, e63532.