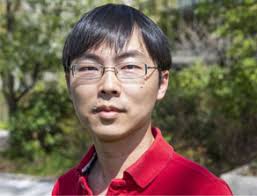 Friday Lecture Series
(open to the Rockefeller community)
Friday, December 3, 2021
Shixin Liu Ph.D.
Assistant Professor
Head of the Laboratory of Nanoscale Biophysics and Biochemistry
The Rockefeller University
Machines on Genes: A Single-Molecule Perspective
Recommended Readings:
Empirical Articles
Li S, Wasserman MR, Yurieva O, Bai L, O'Donnell ME, Liu S. (2021) ORC binds and remodels nucleosomes to specify MCM loading onto DNA. bioRxiv 2021.08.17.456647
Leicher R, Osunsade A, Latham AP, Chua GNL, Watters JW, Christodoulou-Rubalcava S, Zhang B, David Y, Liu S. (2021) Single-stranded nucleic acid sensing and coacervation by linker histone H1. bioRxiv 2021.03.17.435841
Lin, X., Leicher, R., Liu, S., & Zhang, B. (2021). Cooperative DNA looping by PRC2 complexes. Nucleic acids research, 49(11), 6238–6248.
Leicher, R., Ge, E. J., Lin, X., Reynolds, M. J., Xie, W., Walz, T., Zhang, B., Muir, T. W., & Liu, S. (2020). Single-molecule and in silico dissection of the interaction between Polycomb repressive complex 2 and chromatin. Proceedings of the National Academy of Sciences of the United States of America, 117(48), 30465–30475.
Mei, L., Espinosa de Los Reyes, S., Reynolds, M. J., Leicher, R., Liu, S., & Alushin, G. M. (2020). Molecular mechanism for direct actin force-sensing by α-catenin. eLife, 9, e62514
Review Articles
Bustamante, C.J., Chemla, Y.R., Liu, S., & Wang, M. D. Optical tweezers in single-molecule biophysics. Nat Rev Methods Primers 1, 25 (2021).
Wasserman, M. R., & Liu, S. (2019). A Tour de Force on the Double Helix: Exploiting DNA Mechanics To Study DNA-Based Molecular Machines. Biochemistry, 58(47), 4667–4676.
Book Chapters
Leicher R, Liu S. (in press) Probing the interaction between chromatin and chromatin-associated complexes with optical tweezers. In Optical Tweezers: Methods and Protocols, Second Edition (ed. Gennerich A. Springer)
Liu S., Tafoya S., Bustamante C. (2017) Deciphering the Molecular Mechanism of the Bacteriophage φ29 DNA Packaging Motor. In: Gennerich A. (eds) Optical Tweezers. Methods in Molecular Biology, vol 1486.