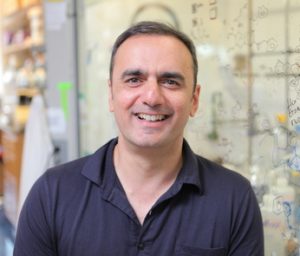 Monday Lecture Series
(open to the Rockefeller community)
Monday, December 13, 2021
Tarun M. Kapoor, Ph.D.
The Pels Family Professor
Head of the Selma and Lawrence Ruben Laboratory of Chemistry and Cell Biology
The Rockefeller University
Life at the Mesoscale: Self-organization of the Cell Division Apparatus in Human Cells
Recommended Readings:
Empirical Articles
Santarossa, C. C., Mickolajczyk, K. J., Steinman, J. B., Urnavicius, L., Chen, N., Hirata, Y., Fukase, Y., Coudray, N., Ekiert, D. C., Bhabha, G., & Kapoor, T. M. (2021). Targeting allostery in the Dynein motor domain with small molecule inhibitors. Cell chemical biology, 28(10), 1460–1473.e15.
Cupido, T., Jones, N. H., Grasso, M. J., Pisa, R., & Kapoor, T. M. (2021). A chemical genetics approach to examine the functions of AAA proteins. Nature structural & molecular biology, 28(4), 388–397.
Wieczorek, M., Ti, S. C., Urnavicius, L., Molloy, K. R., Aher, A., Chait, B. T., & Kapoor, T. M. (2021). Biochemical reconstitutions reveal principles of human γ-TuRC assembly and function. The Journal of cell biology, 220(3), e202009146.
Carlini, L., Brittingham, G. P., Holt, L. J., & Kapoor, T. M. (2020). Microtubules Enhance Mesoscale Effective Diffusivity in the Crowded Metaphase Cytoplasm. Developmental cell, 54(5), 574–582.e4.
Mickolajczyk, K. J., Olinares, P., Niu, Y., Chen, N., Warrington, S. E., Sasaki, Y., Walz, T., Chait, B. T., & Kapoor, T. M. (2020). Long-range intramolecular allostery and regulation in the dynein-like AAA protein Mdn1. Proceedings of the National Academy of Sciences of the United States of America, 117(31), 18459–18469.
Review Articles
Shimamoto, Y., & Kapoor, T. M. (2018). Analyzing the micromechanics of the cell division apparatus. Methods in cell biology, 145, 173–190.