Do you login to NCBI website to manage your PubMed MyNCBI collections, saved searches, email alerts, MyBibliography, or SciENcv profiles? You may need to make a small change to your account to ensure that you can continue to login after June 1, 2021.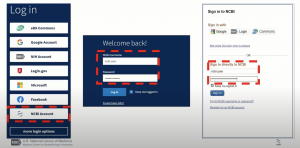 What's happening?
After June 1, 2021, the NCBI will be transitioning to federated account credentials and NCBI users no longer be able to use NCBI-managed credentials to login to NCBI (username/password you set at NCBI). Federated account credentials are those set through eRA Commons, Google, or a university or institutional point of access.
Why is this happening?
This change is occurring to improve account security by using third-party logins.
What do I need to do?
If you currently use a federated login to access your NCBI account, you don't have to do anything! Just be aware that if you also access your account with an NCBI-managed username and password, that route will be going away.
If you only have NCBI-managed credentials, you can do the following now:
Login to NCBI the way you usually do.
Click on your username in the top bar to load your NCBI Account Settings page.
If your Settings page looks like Figure 1, where you have a "Native NCBI Account" username and password and have no linked accounts, then you will need to add a linked account.
To add a linked account, click the "Change" button under Linked Accounts.
You may choose several options for a linked account including the following:
Google
University/institutional
login.gov
What about my account data?
This change will not affect the actual data in your account, such as your MyBibliography, SciENcv, or submission data. The only thing that is changing are the credentials you use to access your account.
What if I have questions?