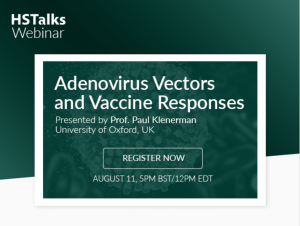 Live Webinar:
Adenovirus Vectors and Vaccine Responses
Prof. Paul Klenerman | University of Oxford, UK
Wednesday, August 11th, 2021 12 pm to 1 pm EST
HS Talks, one of the electronic resources that the library subscribes to, is a collection of multimedia lectures by leading world experts.
HS Talks' Biomedical & Life Sciences Collection will host a live webinar on August 11, the first in a series of live webinars by leading experts. Access is free to all (subscribers and non-subscribers alike).
Registration is required: Please click here to register.
More information about this webinar is available from here
In this opening lecture, Prof. Paul Klenerman, from the University of Oxford, will discuss recent findings relating to the mechanisms that underly the immune response to vaccines based on adenoviral vectors, such as the Oxford/AstraZeneca and Janssen COVID-19 vaccines.
The webinar will focus on some recently published data which explore the basic mechanisms which lead to induction of immune responses by adenovirus vaccines for infectious diseases and cancer.
Please click here to access our HS Talks Biomedical & Life Sciences Collection (VPN required)
Please contact the library at markuslibrary@rockefeller.edu if you have any questions.