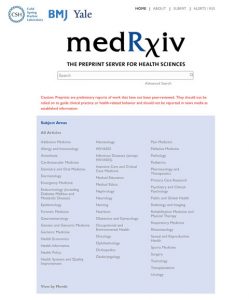 In another step forward for open science and open access, Cold Spring Harbor Laboratory, Yale University, and The BMJ announced last week that medRxiv will debut on June 25th 2019.
medRxiv, (pronounced "med archive"), is a preprint server for clinical medicine and public health that allows scientists to freely share their manuscripts and get feedback from their peers to improve the final publication.
Like bioRxiv, the biology preprint server, medRxiv is a free online platform that enables clinicians and others to discover new findings faster, disseminate and accelerate research, track the progress of research and communicate science more broadly.
"Preprints of articles covering all aspects of research in the health sciences can be submitted to medRxiv. When displayed online, each article will be prominently labeled as a preliminary report that has not been peer reviewed and should not be used to guide clinical practice or health-related behavior, or reported in news media as established information. Once posted on medRxiv, each manuscript will be assigned a digital object identifier (DOI), so it is discoverable, indexable, and citable." (medRxiv.org)
The preprints will also be screened by a clinical scientist and a clinical editor, and "any article deemed to be a potential danger to public health, represent plagiarism, or report unethical work will not be posted." (medRxiv.org)
Please note: although documents are screened prior to posting, medRxiv preprints are not formally peer reviewed and any content or results should not be used for clinical medicine (https://yoda.yale.edu/medrxiv). Complete information about medRxiv, including author guidelines, is available at: medRxiv.org
If you want to learn more about this new platform and how to post your manuscript to medRxiv, check it out some news and readings on medRxiv. medRxiv has begun accepting manuscripts prior to the official launch!
medRxiv in the News