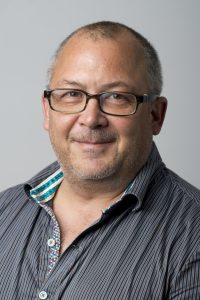 Friday Lecture Series
(open to the Rockefeller and Tri-I community)
Friday, May 19, 2023
Greg Hannon, Ph.D.
Professor of Cancer Molecular Biology,
Director and Senior Group Leader,
Cancer Research UK Cambridge Institute,
University of Cambridge
Fellow, Trinity College
Cambridge, England
Adjunct Professor,
Cold Spring Harbor Laboratory,
Cold Spring Harbor, NY
Impacts of Tumour Heterogeneity on Disease Progression and Therapy Response
Recommended Readings:
Empirical Articles
Kim, E. N., Chen, P. Z., Bressan, D., Tripathi, M., Miremadi, A., di Pietro, M., Coussens, L. M., Hannon, G. J., Fitzgerald, R. C., Zhuang, L., & Chang, Y. H. (2023). Dual-modality imaging of immunofluorescence and imaging mass cytometry for whole slide imaging with accurate single-cell segmentation. bioRxiv : the preprint server for biology, 2023.02.23.529718.
Wild, S. A., Cannell, I. G., Nicholls, A., Kania, K., Bressan, D., CRUK IMAXT Grand Challenge Team, Hannon, G. J., & Sawicka, K. (2022). Clonal transcriptomics identifies mechanisms of chemoresistance and empowers rational design of combination therapies. eLife, 11, e80981.
Funnell, T., O'Flanagan, C. H., Williams, M. J., McPherson, A., McKinney, S., Kabeer, F., Lee, H., Salehi, S., Vázquez-García, I., Shi, H., Leventhal, E., Masud, T., Eirew, P., Yap, D., Zhang, A. W., Lim, J. L. P., Wang, B., Brimhall, J., Biele, J., Ting, J., … Aparicio, S. (2022). Single-cell genomic variation induced by mutational processes in cancer. Nature, 612(7938), 106–115.
Rossi, M., Altea-Manzano, P., Demicco, M., Doglioni, G., Bornes, L., Fukano, M., Vandekeere, A., Cuadros, A. M., Fernández-García, J., Riera-Domingo, C., Jauset, C., Planque, M., Alkan, H. F., Nittner, D., Zuo, D., Broadfield, L. A., Parik, S., Pane, A. A., Rizzollo, F., Rinaldi, G., … Fendt, S. M. (2022). PHGDH heterogeneity potentiates cancer cell dissemination and metastasis. Nature, 605(7911), 747–753.
Kuett, L., Catena, R., Özcan, A., Plüss, A., Cancer Grand Challenges IMAXT Consortium, Schraml, P., Moch, H., de Souza, N., & Bodenmiller, B. (2022). Three-dimensional imaging mass cytometry for highly multiplexed molecular and cellular mapping of tissues and the tumor microenvironment. Nature cancer, 3(1), 122–133.