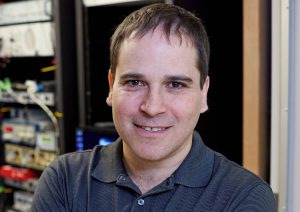 Friday Lecture Series
(open to the Rockefeller and Tri-I community)
Friday, May 12, 2023
Gaby Maimon, Ph.D.
Investigator,
Howard Hughes Medical Institute
Associate Professor,
Head of the Laboratory of Integrative Brain Function,
The Rockefeller University
The Functional Logic of a Cognitive Brain System
Recommended Readings:
Empirical Articles
Vijayan, V., Wang, Z., Chandra, V., Chakravorty, A., Li, R., Sarbanes, S. L., Akhlaghpour, H., & Maimon, G. (2022). An internal expectation guides Drosophila egg-laying decisions. Science advances, 8(43), eabn3852.
Fenk, L. M., Avritzer, S. C., Weisman, J. L., Nair, A., Randt, L. D., Mohren, T. L., Siwanowicz, I., & Maimon, G. (2022). Muscles that move the retina augment compound eye vision in Drosophila. Nature, 612(7938), 116–122.
Lu, J., Behbahani, A. H., Hamburg, L., Westeinde, E. A., Dawson, P. M., Lyu, C., Maimon, G., Dickinson, M. H., Druckmann, S., & Wilson, R. I. (2022). Transforming representations of movement from body- to world-centric space. Nature, 601(7891), 98–104.
Lyu, C., Abbott, L. F., & Maimon, G. (2022). Building an allocentric travelling direction signal via vector computation. Nature, 601(7891), 92–97.
Fenk, L. M., Kim, A. J., & Maimon, G. (2021). Suppression of motion vision during course-changing, but not course-stabilizing, navigational turns. Current biology : CB, 31(20), 4608–4619.e3.