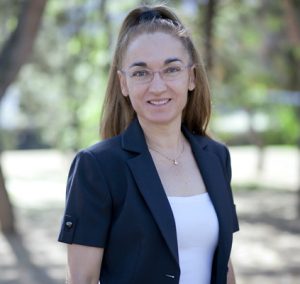 Friday Lecture Series
(open to the Rockefeller community)
Friday, October 28, 2022
Eva Nogales, Ph.D.
Senior Faculty Scientist,
Molecular Biophysics and Integrative Bioimaging Division,
Lawrence Berkeley National Laboratory
Investigator,
Howard Hughes Medical Institute
Distinguished Professor of Biochemistry, Biophysics and Structural Biology
Molecular and Cell Biology Department
UC Berkeley,
Berkeley, CA
Cryo-EM in the Study of Structure, Dynamics and Interactions in the Regulation of Human Gene Expression
Recommended Readings:
Empirical Articles
Zhang, M., Díaz-Celis, C., Onoa, B., Cañari-Chumpitaz, C., Requejo, K. I., Liu, J., Vien, M., Nogales, E., Ren, G., & Bustamante, C. (2022). Molecular organization of the early stages of nucleosome phase separation visualized by cryo-electron tomography. Molecular cell, 82(16), 3000–3014.e9.
Ferro, L. S., Fang, Q., Eshun-Wilson, L., Fernandes, J., Jack, A., Farrell, D. P., Golcuk, M., Huijben, T., Costa, K., Gur, M., DiMaio, F., Nogales, E., & Yildiz, A. (2022). Structural and functional insight into regulation of kinesin-1 by microtubule-associated protein MAP7. Science (New York, N.Y.), 375(6578), 326–331.
LaFrance, B. J., Roostalu, J., Henkin, G., Greber, B. J., Zhang, R., Normanno, D., McCollum, C. O., Surrey, T., & Nogales, E. (2022). Structural transitions in the GTP cap visualized by cryo-electron microscopy of catalytically inactive microtubules. Proceedings of the National Academy of Sciences of the United States of America, 119(2), e2114994119.
Kasinath, V., Beck, C., Sauer, P., Poepsel, S., Kosmatka, J., Faini, M., Toso, D., Aebersold, R., & Nogales, E. (2021). JARID2 and AEBP2 regulate PRC2 in the presence of H2AK119ub1 and other histone modifications. Science (New York, N.Y.), 371(6527), eabc3393.
Greber, B. J., Perez-Bertoldi, J. M., Lim, K., Iavarone, A. T., Toso, D. B., & Nogales, E. (2020). The cryoelectron microscopy structure of the human CDK-activating kinase. Proceedings of the National Academy of Sciences of the U