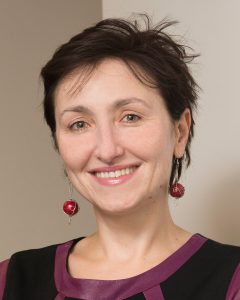 Friday Lecture Series
(open to the Rockefeller community)
Friday, November 19, 2021
Dragana Rogulja Ph.D.
Associate Professor in Neurobiology,
Department of Neurobiology, Harvard Medical School
Temperature and Time
Recommended Readings:
Empirical Articles
Zhang, S. X., Glantz, E. H., Miner, L. E., Rogulja, D., & Crickmore, M. A. (2021). Hormonal control of motivational circuitry orchestrates the transition to sexuality in Drosophila. Science advances, 7(25), eabg6926.
Song, B. J., Sharp, S. J., & Rogulja, D. (2021). Daily rewiring of a neural circuit generates a predictive model of environmental light. Science advances, 7(13), eabe4284.
Vaccaro, A., Kaplan Dor, Y., Nambara, K., Pollina, E. A., Lin, C., Greenberg, M. E., & Rogulja, D. (2020). Sleep Loss Can Cause Death through Accumulation of Reactive Oxygen Species in the Gut. Cell, 181(6), 1307–1328.e15.
Gu, L., Wang, L., Chen, H., Hong, J., Shen, Z., Dhall, A., Lao, T., Liu, C., Wang, Z., Xu, Y., Tang, H. W., Chakraborty, D., Chen, J., Liu, Z., Rogulja, D., Perrimon, N., Wu, H., & Shi, Y. (2020). CG14906 (mettl4) mediates m6A methylation of U2 snRNA in Drosophila. Cell discovery, 6, 44.
Thornquist, S. C., Langer, K., Zhang, S. X., Rogulja, D., & Crickmore, M. A. (2020). CaMKII Measures the Passage of Time to Coordinate Behavior and Motivational State. Neuron, 105(2), 334–345.e9.
Zhang, S. X., Rogulja, D., & Crickmore, M. A. (2019). Recurrent Circuitry Sustains Drosophila Courtship Drive While Priming Itself for Satiety. Current biology : CB, 29(19), 3216–3228.e9.