Webinar Monday Lecture Series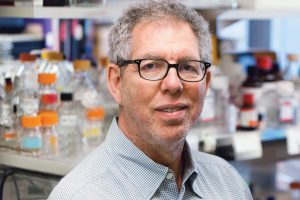 (open to the Rockefeller community)

Monday, October 18, 2021
Jeffrey M. Friedman, M.D., Ph.D.
Marilyn M. Simpson Professor,
Investigator, Howard Hughes Medical Institute,
Head of the Laboratory of Molecular Genetics
The Rockefeller University
To Eat or Not to Eat: Leptin Neural Circuit Regulating Feeding
Recommended Readings:
Empirical Articles
Caner Caglar; Jeffrey Friedman. (2021). Restriction of Food Intake by GSBS Expressing Neurons in the DMH Proc Natl Acad Sci U S A. 118 (13) e2100194118
Schneeberger M, Yu X, Chi J, Kosse C, Kim D, Rahmouni K, Cohen P, Friedman J. (2020). A leptin-BDNF pathway regulating sympathetic innervation of adipose tissue. Nature. Jul;583(7818):839-844
Qiang M, Zha Z, Fan K, Ma P, Friedman JM, Yang G, Lerner RA. (2020). Selection of a Full Agonist Combinatorial Antibody that Rescues Leptin Deficiency In Vivo. Adv Sci (Weinh). Jul 1;7(16):2000818.
Dallner OS, Marinis JM, Lu YH, Birsoy K, Werner E, Fayzikhodjaeva G, Dill BD, Molina H, Moscati A, Kutalik Z, Marques-Vidal P, Kilpeläinen TO, Grarup N, Linneberg A, Zhang Y, Vaughan R, Loos RJF, Lazar MA, Friedman JM. (2019). Dysregulation of a long noncoding RNA reduces leptin leading to a leptin-responsive form of obesity. Nat Med. Mar;25(3):507-516.
Zhang Y, Dallner OS, Nakadai T, Fayzikhodjaeva G, Lu YH, Lazar MA, Roeder RG, Friedman JM. (2018). A noncanonical PPARγ/RXRα-binding sequence regulates leptin expression in response to changes in adipose tissue mass. Proc Natl Acad Sci U S A. Jun 26;115(26):E6039-E6047.
Review Articles
Friedman JM. Leptin and the endocrine control of energy balance. (2019). Nat Metab. Aug;1(8):754-764.
Friedman J. The long road to leptin. (2016). J Clin Invest. Dec 1;126(12):4727-4734.
Friedman J. Leptin and the Regulation of Food Intake and Body Weight. (2015). J Nutr Sci Vitaminol (Tokyo). 61 Suppl:S202.
Friedman J. 20 years of leptin: leptin at 20: an overview. (2014). J Endocrinol. Oct;223(1):T1-8.
Book Chapters
Friedman, J.M. (2015). Foreword (pages vii-xvi). Leptin: Regulation and Clinical Applications. Dagogo-Jack, S. Editor. Springer International Publishing, Switzerland.