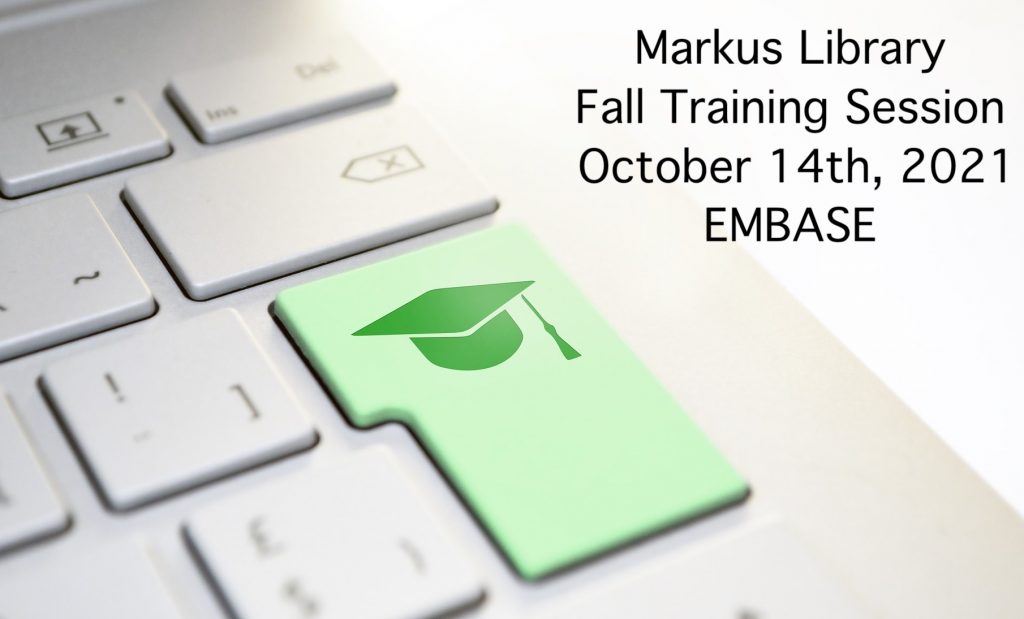 Please join us!
EMBASE FOR BIOMEDICAL LITERATURE SEARCHING
When: October 14th 2021 from 1 pm to 2 pm
Where: Zoom – Registration is required, please register here
Learn how to use Embase, a highly versatile, multipurpose and up-to-date database covering the most important international biomedical literature from 1947 to the present day. All articles are indexed in depth using the Elsevier Life Science thesaurus ('Emtree') and users looking for drug, disease and medical device related information are provided with the intuitive search tools they need to find answers to their research questions. 
The training session will focus on using Embase for searching general biomedical literature. 
Learn how to:
Navigate Embase.com and utilize embedded tools for retrieving searches
Create simple and advanced drug and disease related queries
Find thesaurus terms in Emtree and use them in queries
Combine queries to increase search precision
Saving and retrieving saved queries and search results
Benefits:
Confidence – find all relevant articles that may not otherwise be found by alternative databases
Deep biomedical indexing – all relevant, up-to-date biomedical information from the research literature
Precise retrieval – deep and focused research through powerful retrieval tools
Trainer: Irakli Samkurashvili Ph.D.
Irakli Samkurashvili has been an Application Scientist at Elsevier since 2012. He is supporting Elsevier's Life Sciences Portfolio products including Reaxys, Embase, Pathway Studio and Pharmapendium. Irakli is passionate about helping Chemists, Biologists and Information Professionals to effectively utilize specialty databases in chemistry and the life sciences to advance their research. Prior to joining Elsevier Irakli worked in bioinformatics field at Ariadne Genomics and Informax Inc. His academic background includes post-doctoral fellowship at NIH and Graduate degree in Molecular Genetics from University of Cincinnati.