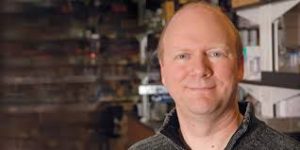 Monday Lectures
Monday, April 2, 2018  4:00 p.m.
Carson Family Auditorium
Michael P. Rout, Ph.D.
Professor
Laboratory of Cellular and Structural Biology
The Rockefeller University
A Hole New View: Structure-Function Mapping of the Nuclear Pore Complex
Recommended Readings:

Science News
March 15, 2018. Scientists map the portal to the cell's nucleus. Science Daily.
Empirical Articles
Upla, Paula; Kim, Seung Joong; Sampathkumar, Parthasarathy; et al. (2017). Molecular Architecture of the Major Membrane Ring Component of the Nuclear Pore Complex. STRUCTURE. 25 (3): 434-445
Hayama, Ryo; Rout, Michael P.; Fernandez-Martinez, Javier. (2017). The nuclear pore complex core scaffold and permeability barrier: variations of a common theme. CURRENT OPINION IN CELL BIOLOGY. 46: 110-118
Fernandez-Martinez, Javier; Kim, Seung Joong; Shi, Yi; et al. (2016). Structure and Function of the Nuclear Pore Complex Cytoplasmic mRNA Export Platform. CELL. 167 (5): 1215-+
Raveh, Barak; Karp, Jerome M.; Sparks, Samuel; et al. (2016). Slide-and-exchange mechanism for rapid and selective transport through the nuclear pore complex. PNAS. 113 (18): E2489-E2497
Kim, Seung Joong; Fernandez-Martinez, Javier; Sampathkumar, Parthasarathy; et al. (2014). Integrative Structure-Function Mapping of the Nucleoporin Nup133 Suggests a Conserved Mechanism for Membrane Anchoring of the Nuclear Pore Complex. MOLECULAR & CELLULAR PROTEOMICS. 13 (11): 2911-2926
Wente, Susan R.; Rout, Michael P. (2010). The Nuclear Pore Complex and Nuclear Transport. COLD SPRING HARBOR PERSPECTIVES IN BIOLOGY. 2 (10)
Review Papers
Field, Mark C.; Koreny, Ludek; Rout, Michael P. (2014). Enriching the Pore: Splendid Complexity from Humble Origins. TRAFFIC. 15 (2): 141-156
Strambio-De-Castillia, Caterina; Niepel, Mario; Rout, Michael P. (2010). The nuclear pore complex: bridging nuclear transport and gene regulation. NATURE REVIEWS MOLECULAR CELL BIOLOGY. 11 (7): 490-501
Book Chapter