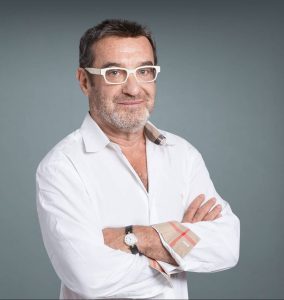 Friday Lecture Series
(open to the Tri-I community)
Friday, January 27, 2023
Danny Reinberg, Ph.D.
Terry and Mel Karmazin Professor of Biochemistry and Molecular Pharmacology,
Professor, Department of Biochemistry,
New York University School of Medicine,
Smilow Research Center,
New York, NY
Polycomb, Inheritance and Disease
Recommended Readings:
Empirical Articles
Escobar, T. M., Yu, J. R., Liu, S., Lucero, K., Vasilyev, N., Nudler, E., & Reinberg, D. (2022). Inheritance of repressed chromatin domains during S phase requires the histone chaperone NPM1. Science advances, 8(17), eabm3945.
Ortabozkoyun, H., Huang, P. Y., Cho, H., Narendra, V., LeRoy, G., Gonzalez-Buendia, E., Skok, J. A., Tsirigos, A., Mazzoni, E. O., & Reinberg, D. (2022). CRISPR and biochemical screens identify MAZ as a cofactor in CTCF-mediated insulation at Hox clusters. Nature genetics, 54(2), 202–212.
Liu, S., Aldinger, K. A., Cheng, C. V., Kiyama, T., Dave, M., McNamara, H. K., Zhao, W., Stafford, J. M., Descostes, N., Lee, P., Caraffi, S. G., Ivanovski, I., Errichiello, E., Zweier, C., Zuffardi, O., Schneider, M., Papavasiliou, A. S., Perry, M. S., Humberson, J., Cho, M. T., … Reinberg, D. (2021). NRF1 association with AUTS2-Polycomb mediates specific gene activation in the brain. Molecular cell, 81(22), 4663–4676.e8.
Grau, D., Zhang, Y., Lee, C. H., Valencia-Sánchez, M., Zhang, J., Wang, M., Holder, M., Svetlov, V., Tan, D., Nudler, E., Reinberg, D., Walz, T., & Armache, K. J. (2021). Structures of monomeric and dimeric PRC2:EZH1 reveal flexible modules involved in chromatin compaction. Nature communications, 12(1), 714.
Reviews
Escobar, T. M., Loyola, A., & Reinberg, D. (2021). Parental nucleosome segregation and the inheritance of cellular identity. Nature reviews. Genetics, 22(6), 379–392.