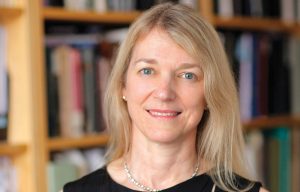 Friday Lecture Series
(open to the Rockefeller community)
Friday, February 18, 2022
Cori Bargmann, Ph.D.
Torsten N. Wiesel Professor
Head of the Lulu and Anthony Wang Laboratory of Neural Circuits and Behavior
Rockefeller University
Head of Science
Chan Zuckerberg Initiative
Organizing Behavior Across Timescales with Neuromodulatory Circuits
Recommended Readings:
Empirical Articles
Sordillo, A., & Bargmann, C. I. (2021). Behavioral control by depolarized and hyperpolarized states of an integrating neuron. eLife, 10, e67723.
Fetter-Pruneda, I., Hart, T., Ulrich, Y., Gal, A., Oxley, P. R., Olivos-Cisneros, L., Ebert, M. S., Kazmi, M. A., Garrison, J. L., Bargmann, C. I., & Kronauer, D. (2021). An oxytocin/vasopressin-related neuropeptide modulates social foraging behavior in the clonal raider ant. PLoS biology, 19(6), e3001305.
Levy, S., & Bargmann, C. I. (2020). An Adaptive-Threshold Mechanism for Odor Sensation and Animal Navigation. Neuron, 105(3), 534–548.e13.
Dobosiewicz, M., Liu, Q., & Bargmann, C. I. (2019). Reliability of an interneuron response depends on an integrated sensory state. eLife, 8, e50566.
López-Cruz, A., Sordillo, A., Pokala, N., Liu, Q., McGrath, P. T., & Bargmann, C. I. (2019). Parallel Multimodal Circuits Control an Innate Foraging Behavior. Neuron, 102(2), 407–419.e8.
Liu, Q., Kidd, P. B., Dobosiewicz, M., & Bargmann, C. I. (2018). C. elegans AWA Olfactory Neurons Fire Calcium-Mediated All-or-None Action Potentials. Cell, 175(1), 57–70.e17.
Review Articles
Lockard, M. A., Ebert, M. S., & Bargmann, C. I. (2017). Oxytocin mediated behavior in invertebrates: An evolutionary perspective. Developmental neurobiology, 77(2), 128–142.