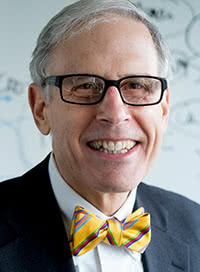 Monday Lecture Series
(open to the Rockefeller community)
Monday, November 1, 2021
Barry S. Coller, M.D.
David Rockefeller Professor,
Physician In Chief
Vice President For Medical Affairs
The Rockefeller University
Structure-Guided Integrin Receptor Therapeutics in Cardiovascular and Other Diseases 
Reading list
Empirical Articles
Kereiakes DJ, Henry TD, DeMaria AN, Bentur O, Carlson M, Yue CS, et al. First Human Use of RUC-4: A Nonactivating Second-Generation Small-Molecule Platelet Glycoprotein IIb/IIIa (Integrin alpha IIb beta 3) Inhibitor Designed for Subcutaneous Point-of-Care Treatment of ST-Segment-Elevation Myocardial Infarction. Journal of the American Heart Association. 2020;9(17). doi: 10.1161/jaha.120.016552. PubMed PMID: WOS:000566953100036.
Vootukuri S, Li J, Nedelman M, Thomas C, Jiang JK, Babayeva M, et al. Preclinical Studies of RUC-4, a Novel Platelet αIIbβ3 Antagonist, in Non-Human Primates and With Human Platelets. J Clin Transl Sci. 2019;3(2-3):65-74. Epub 2019/09/24. doi: 10.1017/cts.2019.382. PubMed PMID: 31544007; PubMed Central PMCID: PMCPMC6753935.
Li JH, Vootukuri S, Shang Y, Negri A, Jiang JK, Nedelman M, et al. RUC-4 A Novel alpha IIb beta 3 Antagonist for Prehospital Therapy of Myocardial Infarction. Arteriosclerosis Thrombosis and Vascular Biology. 2014;34(10):2321-+. doi: 10.1161/atvbaha.114.303724. PubMed PMID: WOS:000344056100023.
Bor WL, Zheng KL, Tavenier AH, Gibson CM, Granger CB, Bentur O, et al. Pharmacokinetics, pharmacodynamics, and tolerability of subcutaneous administration of a novel glycoprotein IIb/IIIa inhibitor, RUC-4, in patients with ST-segment elevation myocardial infarction. Eurointervention. 2021;17(5):E401-+. doi: 10.4244/eij-d-21-00287. PubMed PMID: WOS:000683562900013.
Review Articles
Coller BS. αIIbβ3: structure and function. J Thromb Haemost. 2015;13 Suppl 1(Suppl 1):S17-S25. doi: 10.1111/jth.12915. PubMed PMID: 26149019.
Slack RJ, Macdonald SJF, Roper JA, Jenkins RG, Hatley RJD. Emerging therapeutic opportunities for integrin inhibitors. Nature Reviews Drug Discovery. doi: 10.1038/s41573-021-00284-4. PubMed PMID: WOS:000696805600001.