Keep up with the latest COVID-19 research using LitCOVID.
LitCOVID is a curated literature hub for tracking up-to-date scientific information about the 2019 novel Coronavirus. It is the most comprehensive resource on the subject, providing a central access to 1328 (and growing) relevant articles in PubMed. The articles are updated daily and are further categorized by different research topics and geographic locations for improved access. You can read more at Chen et al. Nature (2020) and download the data.
https://www.ncbi.nlm.nih.gov/research/coronavirus/
Also, you can track the COVID-19 worldwide on Coronavirus COVID-19 Global Cases by the Center for Systems Science and Engineering (CSSE) at Johns Hopkins University (JHU)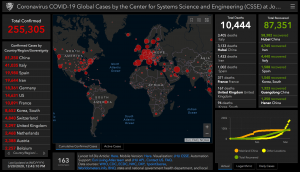 Please contact the library at markuslibrary@rockefeller.edu for any comments and question.