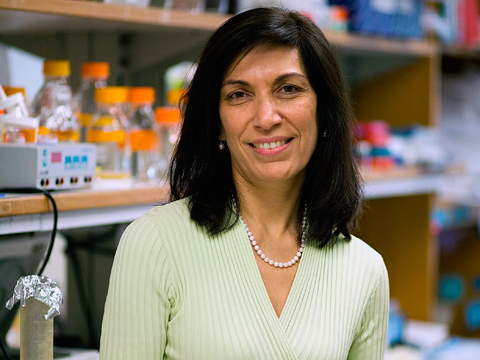 Dr. Huda Zoghbi, 2013 PMG Prize Recipient (image courtesy of The Rockefeller University)
There is nothing particularly remarkable about a woman doing science. Any person — man or woman — who shows an intellectual curiosity combined with a strong work ethic, good decision making, and a little bit of luck can be successful in science. What is remarkable, however, is the
severe underrepresentation of women
in science, technology, engineering, and math (STEM) fields. And for the few women who pursue these career endeavors, their achievements, however great, often go unsung.
To help counteract the inequitable distribution of scientific recognition specifically in biomedical research, Dr. Paul Greengard used the entirety of his 2000 Nobel Prize winnings to establish the Pearl Meister Greengard (PMG) Prize, which spotlights the extraordinary achievements of women in science and hopefully inspires future generations of women scientists in their pursuit of scientific careers. Named after his mother, Pearl Meister, who died while giving birth to him, Dr. Greengard also uses this prize for a very personal reason: to help make the idea of his mother seem less abstract.
Now in its 10th iteration, the Pearl Meister Greengard Prize has been awarded to an outstanding array of pioneering scientists, honoring their contributions to the advancement of biomedical research.
Ceremony is this Thursday, Thursday, December 5, 2013 at 6:30 p.m. (Caspary Auditorium)